Weesp, The Netherlands
200 hours
Intensive Module
30 January - 04 June 2023
YogaToday
Price: €2837.90
Vinyasa is a style of yoga in which dynamic movement, cardiovascular activity and coordination play major roles. It's a wonderful, physical practice that develops strength and stamina. It allows for a great deal of creativity in sequencing and our functional approach helps us create classes that are safe and unique, taking students deeper into their bodies and into the poses.
Our trainings are made up of 50-hour modules or building blocks, if you will. These modules can be taken independently or can be combined to create 100, 200, 300 and 500-hour Yoga Alliance accredited trainings (more about it here).
We offer a pre-designed, 200-hour Functional Vinyasa program, put together by us to provide you with the solid foundation required to teach yoga with confidence.
In this program, we cover:
human anatomy and its variations
the poses and how to adapt them to your own unique body and the unique bodies of your students
the foundations of yoga philosophy and mindfulness
class design and finding your confidence in teaching
This program is concluded with a theoretical and practical exam.
The following modules are required elements of this program:
* General anatomy, Functional Vinyasa Basics and Becoming a Teacher modules are mandatory. The Philosophy & Mindfulness module can be interchanged with Chakras & Meridians if you wish. It is, however, our recommendation to follow the programs as advised.
Literature
Autobiography of a Yogi – Paramahansa Yoganada
ISBN 978-0-8761207-9-8
Please visit the individual module pages for required literature for each module.
Price
The price of this program is €2837,90. Includes a 12 months The Fat Yogis membership.
Location
YogaToday
Weesp, Netherlands
We have a new home for our yearly Netherlands based 200-hour programs: YogaToday, in the newly renovated Sint-Laurentius Church in Weesp, and we are so happy to offer these trainings in such a beautiful space.
Weesp is a 15 min train ride from Amsterdam Central Station, and the studio is a 5 min walk from the station. Overlooking the water and the beautiful village, this is the perfect place for study and joy.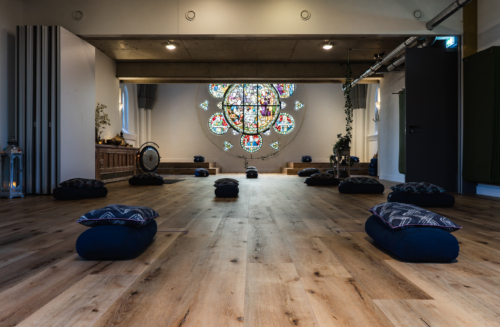 Register