Weesp, The Netherlands
200 hours
Intensive Module
30 January - 25 June 2023
YogaToday
Price: €2837.90
This training consists of an in-depth program that covers functional anatomy, technique and analysis of yin yoga poses, chakra theory and its relevance to our lives, meditation techniques, exploration of yoga philosophical concepts and lots of practice. This 200-hour program also includes an introduction to meridians and the anatomy of the upper body. This is an intense program intended to deepen our understanding and knowledge.
Our trainings are made up of 50-hour modules or building blocks, if you will. These modules can be taken independently or can be combined to create 100, 200, 300 and 500-hour Yoga Alliance accredited trainings (more about it here).
We offer a pre-designed, 200-hour Yin Yoga, Anatomy & Chakra Studies program, put together by us to provide you with the solid foundation required to teach yoga with confidence.
In this program, we cover:
human anatomy and its variations
the poses and how to adapt them to your own unique body and the unique bodies of your students
modern chakra & meridian theory and related techniques
class design and finding your confidence in teaching
The following modules are required elements of this program:
Please visit the individual module pages for more detailed information and required literature.
* The General Anatomy, Yin Yoga Basics and Becoming a Teacher modules are mandatory. The Chakras & Meridians module may be interchanged with Philosophy & Mindfulness, if you wish. It is, however, our recommendation to follow the program as advised above.
Price
The price of this program is €2837,90. Includes a 12 months The Fat Yogis membership.
Location
YogaToday
Weesp, Netherlands
We have a new home for our yearly Netherlands based 200-hour programs: YogaToday, in the newly renovated Sint-Laurentius Church in Weesp, and we are so happy to offer these trainings in such a beautiful space.
Weesp is a 15 min train ride from Amsterdam Central Station, and the studio is a 5 min walk from the station. Overlooking the water and the beautiful village, this is the perfect place for study and joy.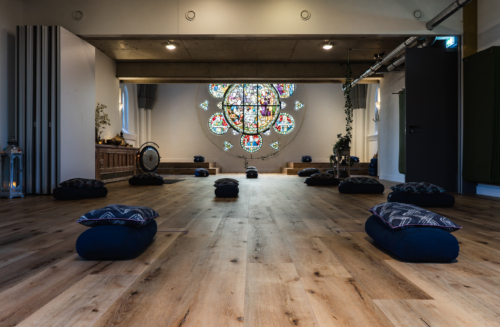 Register