Weesp, Netherlands
50 hours
Intensive Module
01 May - 07 May 2023
YogaToday
Price: €1082.95
Who are you? And who are you when you stand in front of a group? What does your body language say? How does your voice sound when standing in front of a class and how can you use your voice the most effectively? How do you design a yoga class and how do you identify your target audience?
In this module, we dive into the art of becoming a teacher, whether you are a vinyasa or a yin yoga teacher (or both). We explore how to meet the needs of the different people in your classes, how to present yourself on social media, and what do you need to do business-wise when you become a teacher.
In this training, we cover:
The design and sequencing of classes
Presentation skills to help you in the delivery of classes
Voice coaching to help you find your teaching voice
Teaching prenatal yoga
The business of yoga & social media
Yoga practice guided by seasoned teachers
Who is this training for?
This module is for new teachers, as well for those who have already completed a teacher training, but want to know more about class design and personal presentation, and want to improve their social media and business skills.
Schedule
Monday – Friday
10.00-13.00 – workshop
13.00-13.45 – break
13.45-16.15 – workshop
16.30-18.00 – class
Saturday- Sunday
12.30-15.00 – workshop
15.00-15.30 – break
15.30-16.45 – workshop
17.00-18.30 – class
Location
YogaToday
Weesp, Netherlands
We have a new home for our yearly Netherlands based 200-hour programs: YogaToday, in the newly renovated Sint-Laurentius Church in Weesp, and we are so happy to offer these trainings in such a beautiful space.
Weesp is a 15 min train ride from Amsterdam Central Station, and the studio is a 5 min walk from the station. Overlooking the water and the beautiful village, this is the perfect place for study and joy.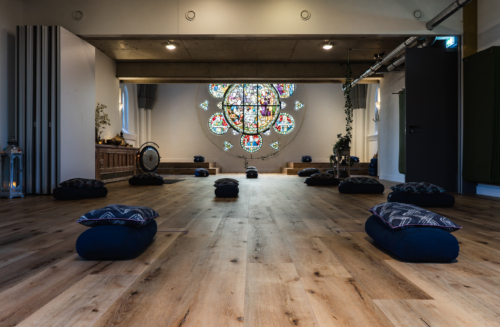 This module is part of the 200-hour Functional Vinyasa and Yin Yoga programs.
If you're interested in tailoring your own program, contact us at mail@tfyteachertraining.com.
Register