Weesp, Netherlands
50 hours
Intensive Module
19 June - 25 June 2023
YogaToday
Price: €1082.95
In this training, we explore how ancient concepts like chakras, karma, samskaras, vrittis and vasanas can be relevant to our personal development and well-being, especially in this modern world. The training is based on the philosophical teachings of Paramahansa Yogananda, Dr. Hiroshi Motoyama and Paul Grilley.
During this course, we practice different chakra meditation techniques, yin and yang asana sequences, and investigate the physical, emotional and mental characteristics of each of the main, seven chakras. We will also briefly review the main anatomical and philosophical principles that underpin yin yoga.
We dive into the theory of meridians, Qi and the five elements according to the TCM (Traditional Chinese Medicine) system, and consider their application in a (yin) yoga class.
In this training, we cover:
The concepts of karma, samskaras, vrittis and vasanas
Chakra theory
Chakra meditation
Fascia and meridian theory
Meridian tracing
Acupressure points
Who is this training for?
This module is for everyone who is interested in chakras and meridians. You don't have to be a yoga teacher to enroll in this training!
Books
A Yogi's Guide to Chakra Meditation, Paul Grilley
ISBN-10: 1733583904 / ISBN-13: 978-1733583909
Schedule
Monday – Friday
10.00-13.00 – workshop
13.00-13.45 – break
13.45-16.15 – workshop
16.30-18.00 – class
Saturday- Sunday
12.30-15.00 – workshop
15.00-15.30 – break
15.30-16.45 – workshop
17.00-18.30 – class
Location
YogaToday
Weesp, Netherlands
We have a new home for our yearly Netherlands based 200-hour programs: YogaToday, in the newly renovated Sint-Laurentius Church in Weesp, and we are so happy to offer these trainings in such a beautiful space.
Weesp is a 15 min train ride from Amsterdam Central Station, and the studio is a 5 min walk from the station. Overlooking the water and the beautiful village, this is the perfect place for study and joy.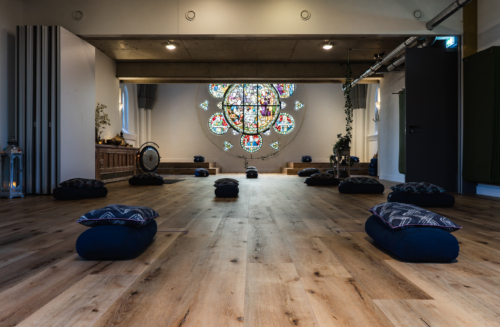 This module is part of the 200-hour Yin Yoga programs.
If you're interested in tailoring your own program, contact us at mail@tfyteachertraining.com.
Register