Weesp, Netherlands
50 hours
Intensive Module
30 January - 05 February 2023
YogaToday
Price: €1082.95
Understanding the body is understanding the poses
The study of anatomy is much more than memorizing the names of bones and muscles. Understanding how bodies can and cannot move enables us to practice and teach poses safely and efficiently. We teach functional anatomy, scientifically proving that bodies are unique in their structure and constitution. This uniqueness means that poses may look different when different people do them. When you know what a pose should be doing for you – the function of a pose – you will be able to adapt and adjust the pose to suit your body and the bodies of your students. This leads to a practice that is safe, creative and delicious for everybody.
In this training, we cover:
The 14 skeletal segments and their movements
How to identify tension and compression in these segments and how to adapt poses accordingly, if required
The myofascial groups and their functions
How this translates into movement
Who is this training for?
This training is for those who want to know more about human anatomy and movement, those who are new to anatomy, those who have already done yoga training, and people who are personal trainers or other movement professionals.
Books
Your Body Your Yoga, Bernie Clark
ISBN10: 0968766536 / ISBN13: 978-0-968766538
Thieme Atlas of Anatomy (recommended)
ISBN 9781604069228
Schedule
Monday – Friday
10.00-13.00 – workshop
13.00-13.45 – break
13.45-16.15 – workshop
16.30-18.00 – class
Saturday- Sunday
12.30-15.00 – workshop
15.00-15.30 – break
15.30-16.45 – workshop
17.00-18.30 – class
Location
YogaToday
Weesp, Netherlands
We have a new home for our yearly Netherlands based 200-hour programs: YogaToday, in the newly renovated Sint-Laurentius Church in Weesp, and we are so happy to offer these trainings in such a beautiful space.
Weesp is a 15 min train ride from Amsterdam Central Station, and the studio is a 5 min walk from the station. Overlooking the water and the beautiful village, this is the perfect place for study and joy.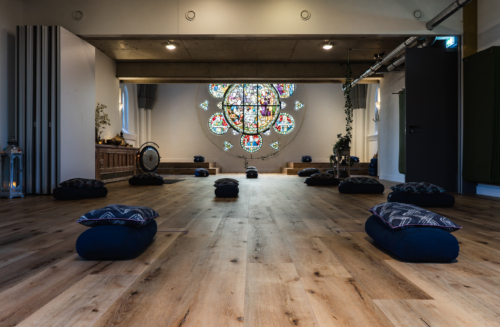 This module is part of the 200-hour Functional Vinyasa and Yin Yoga programs.
If you're interested in tailoring your own program, contact us at mail@tfyteachertraining.com.
Register