Weesp, Netherlands
50 hours
Intensive Module
29 May - 04 June 2023
YogaToday
Price: €1082.95
Observing your mind is the only way towards real change
Yoga philosophy is not a purely intellectual exercise, nor is it the study of ancient and stuffy texts that bear no relevance to our modern lives. In fact, it is quite the opposite: yoga philosophy brings inspiration, guidance, insight, understanding, comfort, support and freedom to our lives. It touches our heart and soul, reminding us of truths we inherently know, but have forgotten.
Fundamental to this process is the practice of meditation, which has a place of honour in our own personal practice and in our teachings. To us, meditation is regularly taking some silent time to focus our attention inward and is the key to becoming aware of ancient patterns of behavior that hold us back from being who we actually want to be. This is why it is said that yoga is the science of self-realization: realizing who you truly are will melt away sorrow and suffering.
Esther Ekhart will co-teach this module.
In this training, we cover:
The fundamentals of yoga philosophy
The Sutras of Patanjali and their relevance to our modern lives
Mindfulness: what it is and how to apply it in your daily life and in your classes
Who is this training for?
This module is for everyone who is interested in yoga philosophy. You don't have to be a yoga teacher to enroll in this training!
Books
Raja Yoga – Swami Vivekananda
ISBN 9781585093342
Schedule
Monday – Friday
10.00-13.00 – workshop
13.00-13.45 – break
13.45-16.15 – workshop
16.30-18.00 – class
Saturday- Sunday
12.30-15.00 – workshop
15.00-15.30 – break
15.30-16.45 – workshop
17.00-18.30 – class
Location
YogaToday
Weesp, Netherlands
We have a new home for our yearly Netherlands based 200-hour programs: YogaToday, in the newly renovated Sint-Laurentius Church in Weesp, and we are so happy to offer these trainings in such a beautiful space.
Weesp is a 15 min train ride from Amsterdam Central Station, and the studio is a 5 min walk from the station. Overlooking the water and the beautiful village, this is the perfect place for study and joy.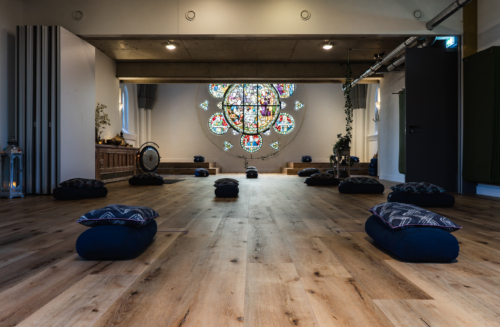 This module is part of the 200-hour Functional Vinyasa program.
If you're interested in tailoring your own program, contact us at mail@tfyteachertraining.com.
Register