Weesp, Netherlands
50 hours
Intensive Module
27 March - 02 April 2023
YogaToday
Price: €1082.95
In this module, we cover the five archetypal yin poses, their functions, how to teach and explain them, and how to adapt them to suit every individual student.
Pre-requisite: you may participate in this module after having finished the General Anatomy module.
In this training, we cover:
The yin yoga poses, an analysis of these poses, modifications and alternatives
skeletal segments, muscle groups, the concepts of target areas and functional yoga, skeletal variations, tension versus compression, and more
assisted yin routines
How to teach a yin yoga class
Books
Yin Yoga, Paul Grilley (2012 edition)
ISBN 978-1-935952-70-1
(blue cover with one picture on it, not the green cover with four pictures, that's the old version)
Schedule
Monday – Friday
10.00-13.00 – workshop
13.00-13.45 – break
13.45-16.15 – workshop
16.30-18.00 – class
Saturday- Sunday
12.30-15.00 – workshop
15.00-15.30 – break
15.30-16.45 – workshop
17.00-18.30 – class
Location
YogaToday
Weesp, Netherlands
We have a new home for our yearly Netherlands based 200-hour programs: YogaToday, in the newly renovated Sint-Laurentius Church in Weesp, and we are so happy to offer these trainings in such a beautiful space.
Weesp is a 15 min train ride from Amsterdam Central Station, and the studio is a 5 min walk from the station. Overlooking the water and the beautiful village, this is the perfect place for study and joy.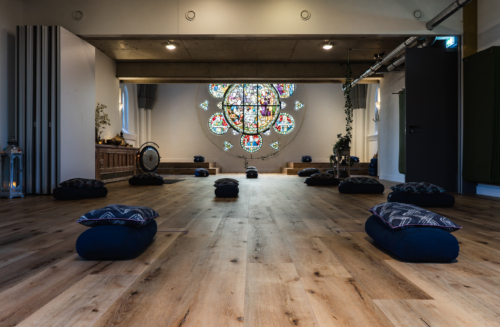 This module is part of the 200-hour Yin Yoga program.
If you're interested in tailoring your own program, contact us at mail@tfyteachertraining.com.
Register