Casal Cabeceiras de Basto, Portugal
50 hours
Intensive Module
04 November - 11 November 2021
D'Alijo Yoga Retreats
Price: from €1745
Even though not acknowledged by western science, we yogis believe that Qi/Prana is our live energy and that it flows in our body through channels we call meridians. For a yogi or eastern practitioner, meridians or nadis are just as real as our blood transport system, our nerves and our lymphatic system. Even though we can't "see" the meridians and measure our Qi, we can learn how to feel it.
What you will learn
In this course we learn about the 12 main meridians, their relationship to our organs, what the different types of Qi are, how the 5 elements work and what the meridian clock is. As well as how to apply this to your (yin) yoga practice, how to use some of the main acupuncture/acupressure points and we look at pulse and tongue diagnosis.
To get a good understanding of the location of our meridians and how to apply meridian stretching in your yoga practice it is necessary to get a good understanding of our anatomy, so this too will be an important part of this course.
In this course:
Anatomy of the human body
Location and tracing of the meridians
The five elements
Meridian clock
What is Qi
Meridians and the organs
Acupressure points
Meridian stretching
Pulse and tongue diagnosis
Daily yoga asana class and chakra-nyasa meditation
Who is it for
The training is meant for anybody who has been practicing yoga for at least one year and has done Yin Yoga before.
This is a 50-hour program, recognized by Yoga Alliance.
In order to receive a certificate, students are required to attend all sessions, and to complete all homework assignments. No examination is required.
Program
Day 1 (4th): Arrival day
| | |
| --- | --- |
| 17.30 – 19.00 | group gathering |
| 19.00 | dinner |
Daily
| | |
| --- | --- |
| 7.30 – 8.00 | meditation |
| 8.00 – 9.30 | breakfast |
| 9.30 – 11.00 | lecture |
| 11.15 – 12.30 | practice |
| 12.30 – 16.30 | lunch and time off |
| 16.30 – 18.00 | lecture |
| 18.15 – 19.00 | practice and meditation |
| 19.00 | dinner |
Day 8 (11th): departure day
| | |
| --- | --- |
| 7.30 – 8.00 | meditation |
| 8.00 – 9.30 | breakfast and check-out |
Check in and check out
On arrival day you can check in from 14.00 on, note that there is no food or lunch in the centre yet. Check out is after breakfast on day 7.
Prices
The price of the Yin Yoga and Meridians Teacher Training 50 hours is:
Single room shared facilities – sold out
Single room €1.870,00
Luxury single room €1.945,00
Shared room options only for couples/friends on request.
Including 6 months The Fat Yogis membership.
Excluding plane ticket and transfer from/to retreat.
Location
D'alijo Yoga Retreat Centre
Portugal
D'Alijo Yoga Retreat Centre has a beautiful, fully equipped yoga studio overlooking the gardens and valley, a luxurious but cozy dining room, a beautiful pool, a large pond and much more.
There are a couple of rooms in the main house and several wooden chalet style houses under the old eucalyptus trees, facing a natural creek. For your convenience there is Rituals shampoo and shower gel to use. House keeping takes place twice a week and pool towels are available.
The estate is remote, surrounded by nature. It has a couple of great hiking trails, which can lead you to rivers and waterfalls and natural pools. The closest town, Cabeceiras de Basto, is about 12 minutes by car. Guimarães, a Unesco listed beautiful city is just 25 minutes away. Porto and Braga are within one hour as well as an other Unesco sites.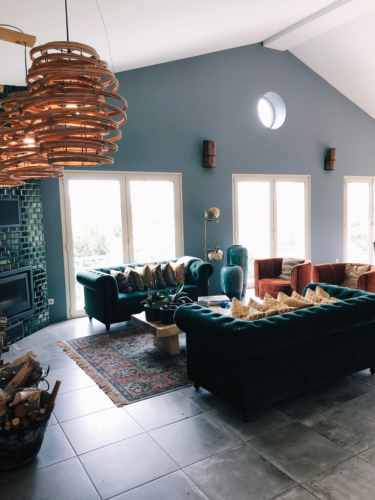 Register now
More trainings
NL 100/200 hours
Weekends Module
28 January – 10 July 2022
NL 100 hours
Intensive Module
15 August – 28 August 2022